2018 NEWS
Latest News

(as of 4/21/2018)
CHECK OUT THE NEW APRIL NEWSLETTER HERE
Potential Train Track Noise Next Week April 23-27
CSX will have a team replacing rail in the vicinity of the Alexandria passenger station this coming week, from the middle to the end of the week. They will not be working in the Crystal City area, but will be traveling to and from the side track just north of the Crystal City VRE Station to the actual work location. Residents in that area may hear the machines moving between those two points.
The Crystal City Citizen Review Council (CCCRC) was established by the Arlington County Board to monitor, identify issues and ensure the success of the Crystal City Sector Plan. others appointed by the County Board. The following letter was sent by the CCCRC to the County Board on March 30, expressing concern that the proposed budget will seriously limit resources for investment in the Crystal City 'economic engine' due to a reduction in the TIF (Tax Increment Financing) rate of income from Crystal City returning to Crystal City development projects.
"Dear Board Members,
For some time now, increasing concerns have emerged in CCCRC discussions and among Crystal City stakeholder groups about a perceived lack of momentum for Crystal City development efforts at a critical juncture. There is also a sense of being overtaken by other communities.
On the positive side, the emergence of JBG Smith as a determined and resourceful actor with clear ideas and energy gives us hope. However, an acceleration of plans, in accordance with the expectations conveyed by our Sector Plan, will not be viable in the absence of substantially strengthened support from the County.
Our concerns on this point have been considerably heightened by the Budget Proposal which you are currently considering. We are all aware of the role played by Crystal City and some other high-density areas in subsidizing services provided to other areas in our County. When a budget dilemma is now finally being openly recognized, we struggle to find diplomatic language to express our reactions to your conclusion that tax rates shall not be increased and that services (read: consumption) will largely be protected, whereas the resources for investment in the Crystal City 'economic engine' are proposed to be severely limited. We also hear comments that 'development is becoming a burden on Arlington', when the reality is just the opposite, viz., that investments in support of revenue-generating development projects are absolutely vital to our hope of creating a 'virtuous cycle' out of our current dilemma.
In our attached Biennial Report, we urge you to rethink the existing proposal for a cut in the Crystal City TIF, and we also ask for assurance that the CCCRC be invited to participate in relevant budget work sessions or other appropriate settings in future years. Similarly, we request the opportunity for a dialog regarding the Crystal City items in the new CIP.
Many thanks for your consideration!
Christer Ahl, Acting Chair, CCCRC"
As is our tradition, we have invited new County Board Member Erik Gutshall to come speak with us at our next meeting. Come have a conversation with him about the direction of Arlington and how this will impact Crystal City.
We have also invited Assistant County Manager for Communications and Engagement Bryna Helfer to share with us the new Six-Step Public Engagement Guide (see article below). At the suggestion of County Manager Mark Schwartz, Ms. Helfer has been leading a major effort to encourage better communication between County staff and residents, especially through civic associations and condo boards.
Location: Back to the Crystal Park Community Room at 1805 Crystal Drive; 7-9 pm.
County Tip Card on Useful Contacts
The County has produced a very useful card that shows resources (apps/websites) and contact numbers. You can see the card here and download it for easy reference.
Crystal City: Do You want an 18th Street Park?
Community input sought for Capital Improvement Plan 2028. What are your priorities? Submit your feedback by Friday, March 16!
https://www.surveymonkey.com/r/CIPInsights2018
JGB Smith has come up with a great plan for the Crystal Square (1770 Crystal Drive), with a grocery, movie theater, and community park on 18th Street which it will give to the County. But there's no money in the County's budget to make the park a reality--it could remain a construction site. Moreover, current County thinking is to reduce the tax income from commerce in Crystal City that would go back to Crystal City projects, further draining the capital improvement pool. We have little open space in Crystal City and this park would be a great addition to the community.
Please respond to the CIP survey by this Friday March 16 and urge that money be put in the next CIP for developing the 18th Street park.
Open House: Crystal City Block Plan "G"/ Metro Market Square (Meeting Canceled due to Weather)
Date/Time
03/21/2018
7:00 pm-9:00 pm
Location
241 18th Street S - 11th Floor
Learn more and provide feedback on potential open space in the heart of Crystal City, known as Metro Market Square; one element within the proposed Block Plan "G". Block Plan "G" will provide guidance for the block as a whole, and is currently under review by the Long Range Planning Committee.
Join us to learn more about:
Project background and process

Site context and constraints

Potential phasing
Participants will weigh-in on:
Open space

Size and configuration

Topography

Circulation and access

Use and activities

A corner retail building

Market space character
Online feedback
A web-based survey will be posted on the project website March 19 – 28 for participants who may not be able to attend the open house.
Most customers who fly at Reagan National will be minimally impacted by Project Journey construction activities. Airlines and flights will continue operating throughout the project, with the usual services and amenities. Changes will be implemented in phases and announced here. Passengers are invited to become more familiar with the project, its major milestones and key benefits. Be among the first to know about upcoming changes by subscribing to Project Journey advisories and updates.
Key issues:
--Beginning Friday, March 23, two left lanes will be closed at all times along sections of the Arrivals (lower-level) roadway for construction.
--Beginning Wednesday, March 21, Uber and Lyft pick-up locations for Terminal B/C moved to the Arrivals (lower) level.
--Two Curbside Doors to Terminal B/C Ticketing Level Closing for Construction
--Airport and Hotel Shuttles Relocated to Ticketing Curb
--American Airlines and Delta Air Lines ticket kiosks and bag drop counters moved about 100 feet from their previous locations near the Metro walkways into National Hall.
Summary of Impacts
Beginning on or about Wednesday, March 21 (weather permitting), two left lanes will be closed at all times along sections of the Arrivals (lower-level) roadway for construction related to Project Journey. Traffic congestion is expected.

To manage congestion, the airport will offer up to 60 minutes of free parking in Terminal Garages beginning March 21 and will deploy teams of police officers to direct traffic through the work zone.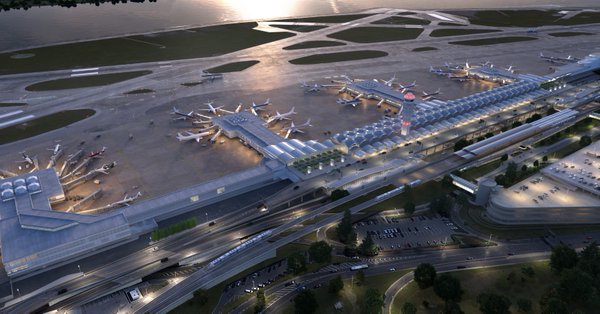 At our February 21 CCCA meeting, five staff members from the Metropolitan Washington Airports Authority (MWAA) gave a detailed presentation of the changes that are coming to National Airport from now until 2021: new security checkpoints to be built over the lower roadway, a new 14-Gate terminal to replace gate 35X, construction, and potential new parking. National's current facilities were designed to serve 15 million passengers per year. But more than 23 million passengers traveled through the airport in 2016, setting new records and straining the existing infrastructure. In response, the airport launched Project Journey, a $1 billion investment to transform the traveler experience inside terminals, at the gates and along the roads. The end result will provide passengers with greater connectivity, more shopping and dining choices and a more pleasant post-security environment. See the PowerPoint presentation here.
Construction began February 19 on the lower (arrivals) roadway to begin preparing for the new security checkpoints. Two lanes will be closed from midnight to 9 am. Note that MWAA is anticipating serious traffic disruption for the next few months and advising travelers to come by Metro, not car, especially to pick up arriving passengers. Beginning February 27, American Airlines and Delta Air Lines ticket kiosks and bag drop counters near the Metro walkways will move about 100 feet from their current locations into National Hall. See a rendering of the new project here: http://www.flyreagan.com/projectjourney. You can also subscribe to the construction alerts and send comments from this page.
The Crystal City BID also provided an update on their final on the potential pedestrian/bike bridge to the airport. The report will be added here as a pdf when available. The project may cost some $35 million and no funding is currently available. If you want to encourage the County to consider funding the project for the future, you can weigh in on the FY 2019-2028 Capital Improvement Plan. The County is currently asking residents to proivde input for the plan by March 16: https://library.arlingtonva.us/2018/02/20/weigh-in-on-fy-2019-2028-capital-improvement-plan/
A full summary of the meeting is here.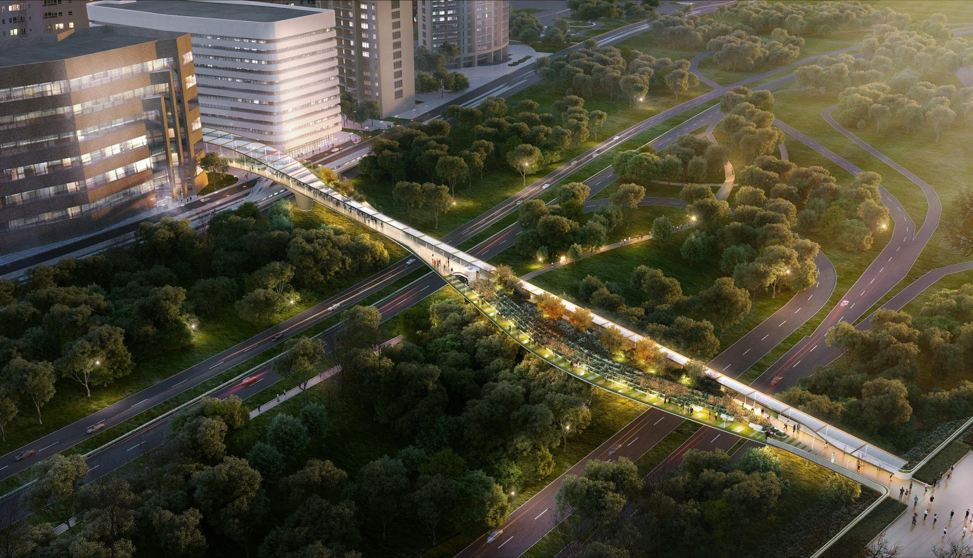 Reagan National construction traffic disruption
MWAA is anticipating serious traffic disruption for the next few months and advising travelers to come by Metro, not car. From February 19 through mid-March, construction crews will construct three new slip-ramps through the passenger pick-up median across from the Arrivals (lower-level) doors of Terminal B/C during overnight hours. From Midnight to 9 a.m., lanes will be closed to accommodate work crews. Minimal traffic impacts are expected. No daytime traffic impacts are expected; lanes will be open to traffic from 9 a.m. to Midnight. Small portions of the passenger pick-up median will remain blocked for work-site safety purposes. The sidewalk next to the terminal, where taxis and shuttles pick up, will not be affected. Passengers crossing to the median for pick-up should take note of their location for reference when exiting the terminal. Use airline signs. The speed limit in the work zone is 15 miles per hour.
In the most detailed timeline yet for the project, which will build new security checkpoints above the already-congested roadway between the Metro and Terminal B/C, Metropolitan Washington Airports Authority Board documents show the "significant impact" to traffic is expected to stretch from January 2018 through July 2019. The Airports Authority plans to encourage travelers to use Metro to reach the airport, and says those who drive should leave lots of extra time, and use the public parking areas to avoid driving through the most congested part of the airport. Read more here.
Construction Updates: See the advisories on the website and sign up for email notifications here.
From February 19 through mid-March, construction crews will construct three new slip-ramps through the passenger pick-up median across from the Arrivals (lower-level) doors of Terminal B/C during overnight hours. From Midnight to 9 a.m., lanes will be closed to accommodate work crews. Minimal traffic impacts are expected. No daytime traffic impacts are expected; lanes will be open to traffic from 9 a.m. to Midnight. Small portions of the passenger pick-up median will remain blocked for work-site safety purposes. The sidewalk next to the terminal, where taxis and shuttles pick up, will not be affected. Passengers crossing to the median for pick-up should take note of their location for reference when exiting the terminal. Use airline signs. The speed limit in the work zone is 15 miles per hour.
On February 27, American Airlines and Delta Air Lines ticket kiosks and bag drop counters near the Metro walkways will move about 100 feet from their current locations into National Hall. Beginning February 27, passengers should follow wayfinding signage from the old locations.
An open forum was held at the Aurora Hills Community Room January 31 on the design for this project. The project will re-build Army Navy Drive within the existing right-of-way as a multimodal complete street featuring enhanced bicycle, transit, environmental and pedestrian facilities. The goal of the project is to improve the local connections between the Pentagon and the commercial, residential and retail services of Pentagon City and Crystal City. See the project here. The reconstruction will provide a physically separated two-way protected bicycle lane facility along the south side of Army Navy Drive, in addition to shorter and safer pedestrian crossings, and will accommodate future high-capacity transit. Motor vehicle travel lanes will be reduced in number where appropriate and will be narrowed to dimensions appropriate for a slower urban context. The existing raised medians will be removed and re-built as a planted median. The traffic signal equipment at the five project corridor signalized intersections will be replaced with all new equipment. The new street design will incorporate best practices of environmental sustainability, including green landscaping treatments to reduce stormwater runoff and recharge groundwater.
JBG Smith hosted a community meeting February 1 to discuss plans for the demolition of the existing buildings on its property at Metropolitan Park in the block on S. Eads Street from 13th Street (south of Whole Foods and the Bartlett) to just above the warehouse on 15th Street. The warehouse on 15th Street is Met Park 8 and is not included in the demolition during this phase and is on hold indefinitely. The demolition is of particular interest to CCCA members on the east side of S. Eads Street due to pending construction noise.
Demolition is expected to start sometime in April, once all County permits have been obtained, with the work continuing for about 6-8 weeks. Trucks and equipment will be staged in the current parking lot area with work scheduled from 7 am to 9 pm. Weekend work will only happen if necessary and will be 9 am to 9 pm. The proposed development of 590 residential units of 16/18/22 levels and extension of the central park are on hold indefinitely, although approved. JBG Smith plans to develop PenPlace on 12th Street first.
JBG has filed an amendment to the Crystal Square site plan area and proposes to renovate a portion of the existing site to create approximately 84,000 square feet of additional retail space in two new spaces along Crystal Drive between 15th and 18th Street:
Phase One includes a three level Alamo Drafthouse movie theater fronting on Crystal Drive, between two existing office buildings; and a one level addition to the office building at 1550 Crystal Drive with space for a grocery store. Additional retail will front on Crystal Drive and the new retail will be integrated into the Underground.
A second amendment (Phase Two) is expected to be filed soon to include revisions to the 1750-70 office building (now proposed to become residential) and the 18th Street retail and 'park' space. Some of the changes to Phase One will be implemented upon approval (allowing for contractual agreements with the theatres and grocer to be finalized). The developer has indicated they want to redevelop the entire retail part of the block together, which will delay significant disruption from construction until the County Board has approved both amendments.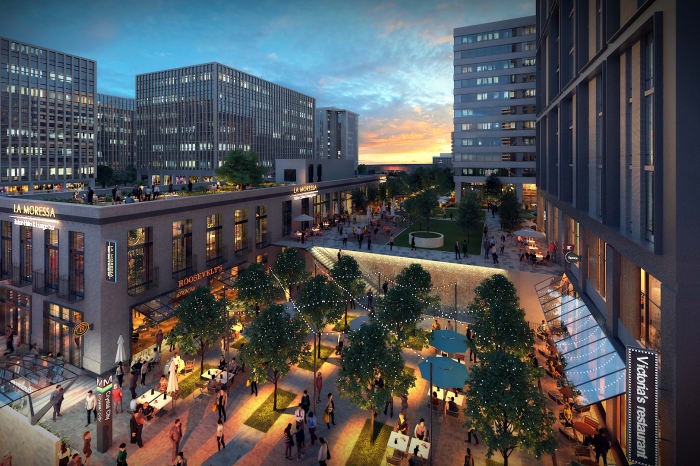 The proposal is reaching the final stages of review by the Site Review Planning Commission and approval by the County Board.
February 5: Demolition of Elevated Clark Street
Construction crews are demolishing the elevated section of Clark Street between 12th and 20th Streets South for the next step in the makeover of Crystal City's street network. February 5 marked the permanent closure of elevated Clark Street. The demolition project is anticipated to take up to 18 months to complete. Updates will be provided on the project page and through this email update.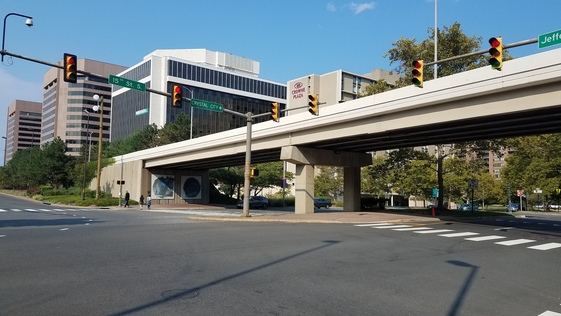 Update on Long Bridge and a Bike Bridge
The latest version of the Long Bridge Project proposals has separated out a pedestrian/bike lane from the rail bridge project. Earlier proposals looked at 2, 3 or 4 tracks, each with or without a bike/pedestrian path on the bridge. The idea that a separate pedestrian/bike bridge would ever be built across the river is unrealistic. Moreover, the proposal is that such a bridge would stop at the Mount Vernon Trail, instead of continuing to Long Bridge Park, thus necessitating a separate bridge connection across the George Washington Parkway to connect the Trail and the Park.
The President of the Friends of Long Bridge Park (and member of the CCCA) addressed Arlington County's Pedestrian Advisory Board (PAC) on January 10, raising concerns and providing facts and arguments in support of a strong County protest to the Long Bridge Project. (see his presentation here). We understand that the PAC is urging the County to do so.
The CCCA has also sent a letter to the Long Bridge Project expressing concern that a pedestrian/bike lane has been separated from the entire project. (see the letter here) Arlington County's Department of Transportation has also sent a letter requesting reconsideration. (see letter here)
JBP Planning for PenPlace:
Nearly five years after Arlington County approved Vornado's plans 1.8M SF of office at the PenPlace development, JBG Smith is starting the project as residential. The developer plans to build the first phase of the Pentagon City project as two seven-story apartment buildings with 300 units and 40K SF of ground-floor retail. There will be a small plaza between the two low-rise residential buildings. The site is located along 12th Street between S. Eads and S. Fern Street, facing the Whole Foods block. Planning for Phase 2, also approved previously in the Pentagon Development Site Plan for the northern section along Army Navy Drive, is on indefinite hold, according to JBG Smith.
Note: This is a pleasant switch from earlier Vornado plans to build two high-rise buildings along 12th street: one a hotel, the other office. The altered plans will go through the normal Site Plan Review Committee (SPRC) process.
January 16: Rep. Beyers Helicopter Noise Meeting
On January 16, Representative Don Beyer convened what was effectively the 4th meeting on helicopter noise since 2010. (The most recent was convened by County Board member Libby Garvey in 2015.) This is a longstanding problem for residents all over the northern Virginia area, particularly stretching from Rosslyn to Alexandria and west to Falls Church. County residents have complained for years about helicopter noise. Beyer inserted a provision into legislation in late 2016 directing the Pentagon to study flight routes and possible ways to minimize the noise. The meeting was part of that study.
It directs the Dept. of Defense to work with the Federal Aviation Administration "to study changes to the region's helicopter flight routes, operating procedures, and even the types of helicopters flown in the national capital airspace to mitigate the effect of noise on the region's neighborhoods." Representatives of the Army, Marines, and Air Force responded to questions and sought feedback from the audience, although they emphasized that there are 21 agencies which fly helos in the National Capitol area. Residents insisted that the helos are not sticking to the approved lanes, that there has been an increase in helo noise in recent years, and that the vibration from the Ospreys, in particular, rattles windows and frightens children and pets. A key takeaway is that there is no central location to receive data on helo flights, deviations from FAA approved lanes, noise, etc.
The Aurora Highlands Civic Association hosted a meeting for all 3 civic associations in the 22202 zip code on the upcoming construction work for the I395 Express Lanes. Transurban presented their plans for the new HOV lanes and the new intersection at S. Eads STreet. (see pdf presentation here) Construction work on and near the South Parking Lot is tentatively scheduled to begin on January 23, 2018 and is tentatively scheduled to conclude in spring 2019. Construction activities occurring on and near the South Parking Lot during this timeframe will include demolition of the roadway and existing light poles, placement or roadway stone, and installation of drainage and water lines, a duct bank, a new curb, sidewalk and roadway, fences and bollards, as well as the installation of lighting and new signalized interchanges. Most of the work for this portion of the project should be completed during daytime hours; however, there may be a need for off-peak weekend work that may be noticeable to residents in the area.
However, there are potentially major traffic implications for us in Crystal City, as the new HOV connections at S. Eads will require street and sign adjustments for the additional traffic. Moreover, the Army Navy Drive Complete STreet project is connected to this. This project will consist of a rebalancing of the right-of-way (ROW) to permit improved bicycle, pedestrian and transit accommodations on Army Navy Drive (includes narrowing of existing travel lanes). This project will provide for a 0.7 mile, two-way dedicated bicycling facility (cycle track) on the south side of the ROW, alongside the existing sidewalk. Americans with Disabilities Act (ADA) compliant curb ramps, rebuilt driveway aprons and traffic signalization modifications will be included in this project. The project is being coordinated with the Transitway project where they overlap between S Joyce St and S Hayes St. An Army Navy Drive Design Workshop is planned for January 31. YOu can see the design plans at the open forum at the Aurora Hills Library from 4-7 pm. https://projects.arlingtonva.us/…/army-navy-drive-complete…/
2017 NEWS
CSX Train Horn Noise
County Board Member Katie Cristol convened a meeting November 21, 2017, of CSX representatives with representatives of the CCCA and Crystal City condominiums to follow up on the Board's September 19, 2017, decision "to engage CSX on mitigating noise from the operation of their rail lines in Crystal City." Discussion focused first on issues of train maintenance noise and the need for advance notice and then on the safety issues for the new VRE station that might facilitate a CSX decision to further mitigate train horn noise.
The group agreed on several follow-up actions, with the County agreeing to encourage a discussion of VRE and CSX engineers about potential safety measures that might facilitate consideration by CSX of further mitigating the blowing of train horns when the VRE station is closed. In the meantime, we have been given a special email address to report "minimal" or "sporadic" violations of the existing train horn rules in place for Crystal City: [email protected] This is where you should report violations of the current CSX policy that horns should not be blown (except in emergencies) when the VRE station is closed. If the problem increases or becomes more frequent and you wish to start the process of formal complaints, please use the following link and start the documentation process with the TellCSX section in the middle of the page: https://www.csx.com/index.cfm/about-us/contact-us/
Board Approves Long Bridge Aquatics & Fitness Center Contract
On November 28, the County Board awarded a $60 million contract to Coakley & Williams Construction, Inc., to complete Phase 2 of Long Bridge Park, including the design and building of the Long Bridge Aquatics & Fitness Center, Arlington's first free-standing aquatics center. The project also will include development of 10.5 acres of the park, including environmental remediation, continuation of the Esplanade, public gathering areas and casual use space, one or more rain gardens, parking and other associated infrastructure. This new phase of the park is expected to open to the public in late 2020/early 2021. The Board voted 4 to 1 to approve the contract. Board Member John Vihstadt voted no.
This is the first time the County has used the design-build approach to build a new facility. The approach, used across the country, establishes a budget at the outset of the project which the contractor cannot exceed. The culmination of planning since 2001, the aquatics center will visually connect to the Esplanade that is one of the best-loved features of Long Bridge Park, which lies on the north end of Crystal City and offers Potomac views. Coakley & Williams winning design for the Aquatics & Fitness Center featured simple, energy efficient, quality architecture. A deck, up to 18 feet on three sides and 24 feet on the fourth, will surround the 50-meter pool. The pool will offer one, three and five-meter diving, and will be large enough that even when swim events are taking place, lanes will be open to the public. The facility also will include a second leisure/family pool, a fitness center and community rooms.
The Board also awarded a contract for $550k to Douglas Hollis to design, fabricate and install public art for Phase 2. Hollis is the architect who designed the Wave Arbor art in the current park.
To read a description of the civic engagement and procurement process, see here. View the original design concept video for Coakley & Williams here: Coakley Williams/Page

CCCA Annual General Meeting and Elections November 14
Our Annual General Meeting with elections was held November 14.
In brief elections for new CCCA officers at the beginning of the meeting, Carol Fuller was elected as President, succeeding Christer Ahl, and Claudia Yarus was reelected for a second term as Secretary. There were no candidates for the position of Membership Liaison. The Executive Committee would welcome interest We would welcome inquiries from anyone in the community who would be interested in learning more about becoming an officer in the CCCA. We are especially looking for participation from the apartment rental community, in order to increase representation from that sector of Crystal City. A candidate could be appointed temporarily on a trial basis by the Executive Committee to provide outreach to our community and recruit new members. If you are interested, please email [email protected]
Following the elections, Taylor Lawch of JBG-Smith, the major developer in Crystal City which took over from Vornado, gave a very interesting presentation of his company's plans for the Crystal Square block bounded by 15th Street South, Crystal Drive, 18th Street South and Jefferson Davis Highway. Phase 1 will include construction to install a specialty grocery store (as yet to be decided) in the current driveway space under the building on the corner of 15th and Crystal Drive. It will also include an Alamo Draft House movie theater. In the next stage, assuming site plan approval by the County, there will be a two-level green plaza along 18th Street and additional levels on the 1770 Crystal Drive building for 360 apartments. JBG Smith hopes to have everything finished by mid to end 2020. See the presentation and the plans for the Underground here.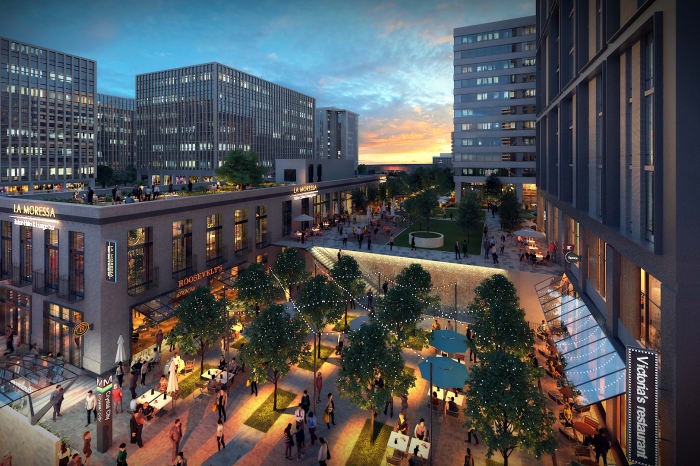 Also, please see the link to CoUrbanize so that everyone has a chance to ask questions, post ideas, answer polls, and receive updates from JBG Smith: http://courbanize.com/crystal-city
See the New Long Bridge Aquatics & Fitness Center Concepts
For more than 10 years, Arlington County has been striving to develop Long Bridge Park, based on years of community interaction. And now we're ready to take another big step forward: four nationally recognized design and construction firm teams have put together their best creativity and knowledge to design options. View the four design concepts for the Long Bridge Aquatics & Fitness Center and the four design concept videos below:
The Selection Advisory Committee (SAC), comprised of six staff and a community representative from the Long Bridge Park Advisory Committee, will recommend the contract award based on written proposals, oral interviews, review of concepts, public feedback and negotiations. It is anticipated that the County Manager will then make a recommendation to the County Board at their November 27 meeting for approval to award a $54,700,000 contract based on a concept from one of the four designs. Construction could start as early as July 2018, with the new facility open in 2021.
Renovations on the Pentagon Reservation
From the Pentagon Master Plan:
"To the east of the Reservation are Boundary Channel, the Pentagon Lagoon, Columbia Island, and the George Washington Memorial Parkway. Improvements to the Humpback Bridge and a new shared-use path underpass have recently been completed. Modification of the Boundary Channel Drive/I-395 interchange is planned to serve the proposed Long Bridge Park Regional Aquatics Center and the recently completed Long Bridge outdoor recreation park. The proposed project would provide improved pedestrian and bicycle access to Boundary Channel Drive and the Pentagon building for Pentagon employees."
"Coordination with Arlington County to facilitate the County's installation of a fence and a multi-use trail connection along Boundary Channel Drive and the Pentagon Lagoon that will connect to a signed public bike route from the proposed roundabout on Boundary Channel Drive to Long Bridge Park. Areas north of the multi-use path intersection with the roundabout will be signed as restricted to DoD/Pentagon badge holders only."
Editorial: In our October Newsletter, we reported about the VDOT plans to introduce an 'express lanes extension' on I-395 in the form of High Occupancy Toll (HOT) lanes which will start and end at the interchange at Eads Street and Army-Navy Drive. The laudable objective is to achieve an increased through-put in terms of the number of passengers, without increasing the number of vehicles. The beneficiaries will be primarily those who commute from further out in Virginia to jobs in D.C. or at the Pentagon. The other side of the coin is that a substantial impact is likely to be felt at the Eads/Army-Navy interchange and in a much larger surrounding area in Pentagon City and Crystal City.
VDOT has undertaken an Environmental Impact Analysis and the comment period ended on December 16, 2016. Therefore, Arlington County felt obliged to offer a formal comment, and the County Board approved such a text in its meeting on December 13, 2016. It should be emphasized that the County feels compelled to offer general support for the project and that, in any event, the County is not in a position to exert a very strong influence, let alone to prevent the project.
However, the most obviously affected communities in Crystal City, Aurora Highlands and Arlington Ridge clearly have reason to expect the County to look after our interests in terms of traffic impact, noise, and other environmental aspects. So the Presidents of our three Civic Associations joined forces at the December 13, 2016, meeting, in order to express concerns and to demand mitigating measures.
Regrettably, we had detected a tendency for the County to 'soft-pedal' their concerns vis-à-vis VDOT or even to appear to 'sweep issues under the rug'. For instance, in the Staff Report to the County just a few days prior to the meeting, serious concerns had been expressed on a number of issues: disagreements about methodology, substantially incomplete data, a failure to factor in anticipated future build-out in Crystal City and Pentagon City, and a totally inadequate allocation of resources for local mitigation efforts. But a revised text of the Resolution that the Board intended to pass, substantially downplayed all these serious issues or left them for future consideration. Clearly it is not credible that all these issues suddenly had been resolved or that reassurances had been provided. So there are reasons to wonder why the County nevertheless was prepared to play along.
In particular, the entire issue of mitigation of future traffic problems and environmental concerns was left up in the air with nothing more than a 'toothless' attempt at reassuring our community. The three CA Presidents offered harsh criticism and expressed a firm expectation that much stronger County action must be forthcoming as this project moves forward. However, it is also very important for individual residents of our area to stay informed and to come forward with their concerns to the County, either individually or through their respective Civic Associations.
A Vibrant CCCA Needs You!
In late 2013, a small group of dedicated CCCA residents worked hard to create the ByLaws by which we established the Crystal City Civic Association on January 28, 2014. We are about to celebrate 4 years of existence, during which we've advocated for so many issues of concern to residents, from creation of the new Pop Up Connection Library in the Underground, to mitigating excessive development growth that would undermine green space, to a good design for the Long Bridge Park facility, to a more rational planning approach to the proposed VRE station location. Obviously, we haven't won all of our battles, but we've made our presence known to the County and developers and become a force to deal with.
Now, as we approach the November 14 Annual General Meeting and elections for new officers, we are facing a turnover crisis. We've been lucky that most of our founding members have stayed the course so far and served in a variety of officer positions. We've also been lucky to have a number of others who have stepped up to help with non-officer positions on the Executive Committee. But the same officers can not continue forever; in fact, our ByLaws limit officers to two terms of two years in the same office. So, to ensure the viability of the CCCA, we need new participants on the Executive Committee and members who are willing to serve in a variety of capacities. The Committee plans and runs the meetings and stays on top of all the issues facing Crystal City, so we can keep you all informed.
Three positions will be open November 14 for election: President, Secretary, and Membership Liaison. We need volunteers to step forward. If you're not sure you want, or could, handle one of the jobs, we welcome you to get the flavor of the involvement by coming to Executive Committee meetings which are held generally in the off-months when we don't have General Meetings. You could also "shadow" one of the officers to learn the ropes for next year, or to be appointed mid-year if an officer steps down.
Please consider how you could contribute to civic engagement and help keep the CCCA vibrant. See details below. Email the Executive Committee ([email protected]) and the Elections Committee ([email protected]org) to ask for further information.
WE NEED VOLUNTEERS NOW.
Nominations for Officers of the Crystal City Civic Association (CCCA)
Nominations -- including self-nominations -- are now open for the following three CCCA officer positions! The principal duties are summarized below. All members whose dues are paid are eligible to be candidates and to vote in the election at the CCCA Annual General Meeting on the evening of November 14, 2016. Terms for each position are two years.
--President: Preside at all meetings and represent the CCCA to the County, developers, and other entities
-- Meeting Secretary: Meeting minutes-taker and keeper of non-financial records
-- Membership Liaison: Lead officer in recruiting new members and facilitating the CCCA activities of current members, ensuring they receive needed information and support
To nominate yourself, or someone else, for one of these offices, please submit general contact information for the nominee (name, address, phone number, email address, and a brief written statement supporting the candidacy) to the Election Committee, specifying which office the nomination is for. In addition, if you are nominating someone else, please provide your contact information. ([email protected])
Should there be more than one nomination for a position, eligible nominees who are willing to serve in those positions will have an opportunity to present an oral statement supporting their candidacy before the election at the Annual General Meeting.
All nominations must be received by October 30, when nominations will be closed.
More detail on the officer positions and operations of the CCCA is available from the Election Committee, whose members would be glad to provide additional information and answers to any questions of interested civic association members. ([email protected])
In addition, the CCCA's Bylaws containing descriptions of the open positions are posted to the right under "Directly Related Links."
This is an opportunity for Crystal City residents to advance the interests of the Crystal City community. Thank you in advance for your thoughtful consideration and response.
Patricia Heath, Barbara Selfridge, Dave Salmon, Election Committee
Site Plan Review of Crystal Square Retail October 26
On October 26, from 7-9 pm, the SPRC reviewed the JBG-Smith site plan for the Crystal Square block bounded by 15th Street South, Crystal Drive, 18th Street South and Jefferson Davis Highway. Public observers are welcome on the 11th floor of 2011 Crystal Drive. The proposed new theater and retail spaces will front on Crystal Drive and 18th Street South. The proposed plaza will be along the north side of 18th Street South between Crystal Drive and South Clark / South Bell Streets. JBG-Smith decided to separate the plan for the movie theater and retail/grocery space from the plans for the office to residential conversion of 1750 Crystal Drive, the new retail building, and 18th/Crystal Drive and the plaza along 18th. The second SPRC meeting on the grocery/theater will take place on November 20 (at Courthouse), i.e. AFTER the JBG appearance at our CCCA meeting November 14, but they will be glad to discuss it. You can view JBG-Smith's proposed site plan here.
CCCA Meeting October 5: "Fighting the Good Fight: Trains and Planes in Crystal City"
We had two items on the agenda for the October 5 CCCA General Meeting:
1. Airport Access Feasibility Study: The Business Improvement District (BID) funded a feasibility study for a possible pedestrian/biking bridge to the airport and made a brief PowerPoint presentation, followed by a Q&A. See the proposed access route here.
2. Location of Proposed VRE Train Station: After fighting all year to convince the County and VRE to adopt option 3 for the proposed new VRE station in Crystal City, we lost our sustained civic action. On September 19 the County Board voted to 1) "Accept Option #2 as VRE's preferred station location;" 2) Request VRE to '"Engage with the Arlington County Board and residents of Crystal City at the concept design and before site investigation, to review all elements of the concept design scope including noise; and further request that the VRE present the finalized concept design to the Arlington County Board and residents for final comment and opinion before finally selecting that design for construction;" and 3) Direct "the County Manager to initiate a process to engage CSX on mitigating noise from the operation of their rail lines in Crystal City, Arlington."
County Board Member John Vihstadt attended our meeting. He acknowledged that he had favored option 2, based on the staff report, before visiting the sites, but realized afterwards that there is really little difference for VRE between options 2 and 3, but a big difference for the community. That is why he made a motion to adopt option 3, but was outvoted by his colleagues. After an extensive Q&A session, he committed to sending a message the following day to his colleagues and the County Manager to ask what the next steps will be on engagement.
Our Newest New Polling Station for Precinct 006
Those of us in the north end of Crystal City may be starting to think of our elections polling station as a moveable feast. After years of voting at WaterPark Towers at 1501-1505 Crystal Drive, we were moved for the last year to Crystal Place at 1801 Crystal Drive. When the management for both buildings decided not to host the polling station any more, the County scrambled to find another site. Unfortunately, none of the suitable condo or apartment buildings wanted the hassle either.
So, our newest polling station is the Gallery Underground at 2100 Crystal Drive. Look for Room 25A in Section B on the Underground map. Some of you may have attended painting classes there or the VRE station public meetings last June. When you enter from We the Pizza and pass the Library on your right, turn left and it's the first glass-windowed area on the right. We assume the County will be sending out new voting cards in the near future.