2017 NEWS
Latest News

(as of 11/20//2017)
CCCA Annual General Meeting and Elections November 14
Our Annual General Meeting with elections was held November 14.
In brief elections for new CCCA officers at the beginning of the meeting, Carol Fuller was elected as President, succeeding Christer Ahl, and Claudia Yarus was reelected for a second term as Secretary. There were no candidates for the position of Membership Liaison. The Executive Committee would welcome interest We would welcome inquiries from anyone in the community who would be interested in learning more about becoming an officer in the CCCA. We are especially looking for participation from the apartment rental community, in order to increase representation from that sector of Crystal City. A candidate could be appointed temporarily on a trial basis by the Executive Committee to provide outreach to our community and recruit new members. If you are interested, please email [email protected]
Following the elections, Taylor Lawch of JBG-Smith, the major developer in Crystal City which took over from Vornado, gave a very interesting presentation of his company's plans for the Crystal Square block bounded by 15th Street South, Crystal Drive, 18th Street South and Jefferson Davis Highway. Phase 1 will include construction to install a specialty grocery store (as yet to be decided) in the current driveway space under the building on the corner of 15th and Crystal Drive. It will also include an Alamo Draft House movie theater. In the next stage, assuming site plan approval by the County, there will be a two-level green plaza along 18th Street and additional levels on the 1770 Crystal Drive building for 360 apartments. JBG Smith hopes to have everything finished by mid to end 2020. See the presentation and the plans for the Underground here.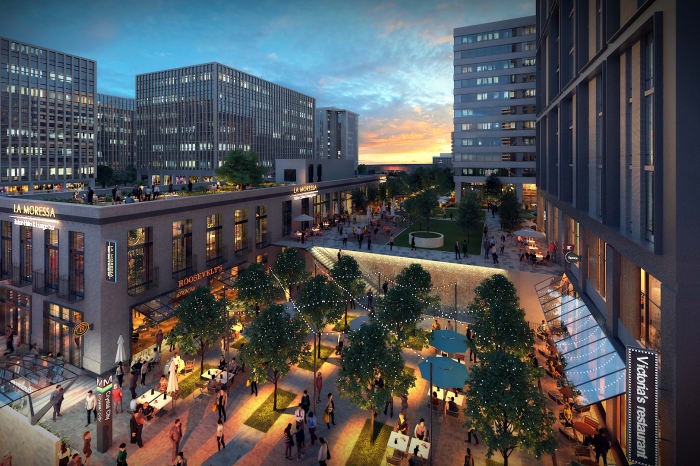 Also, please see the link to CoUrbanize so that everyone has a chance to ask questions, post ideas, answer polls, and receive updates from JBG Smith: http://courbanize.com/crystal-city
See the New Long Bridge Aquatics & Fitness Center Concepts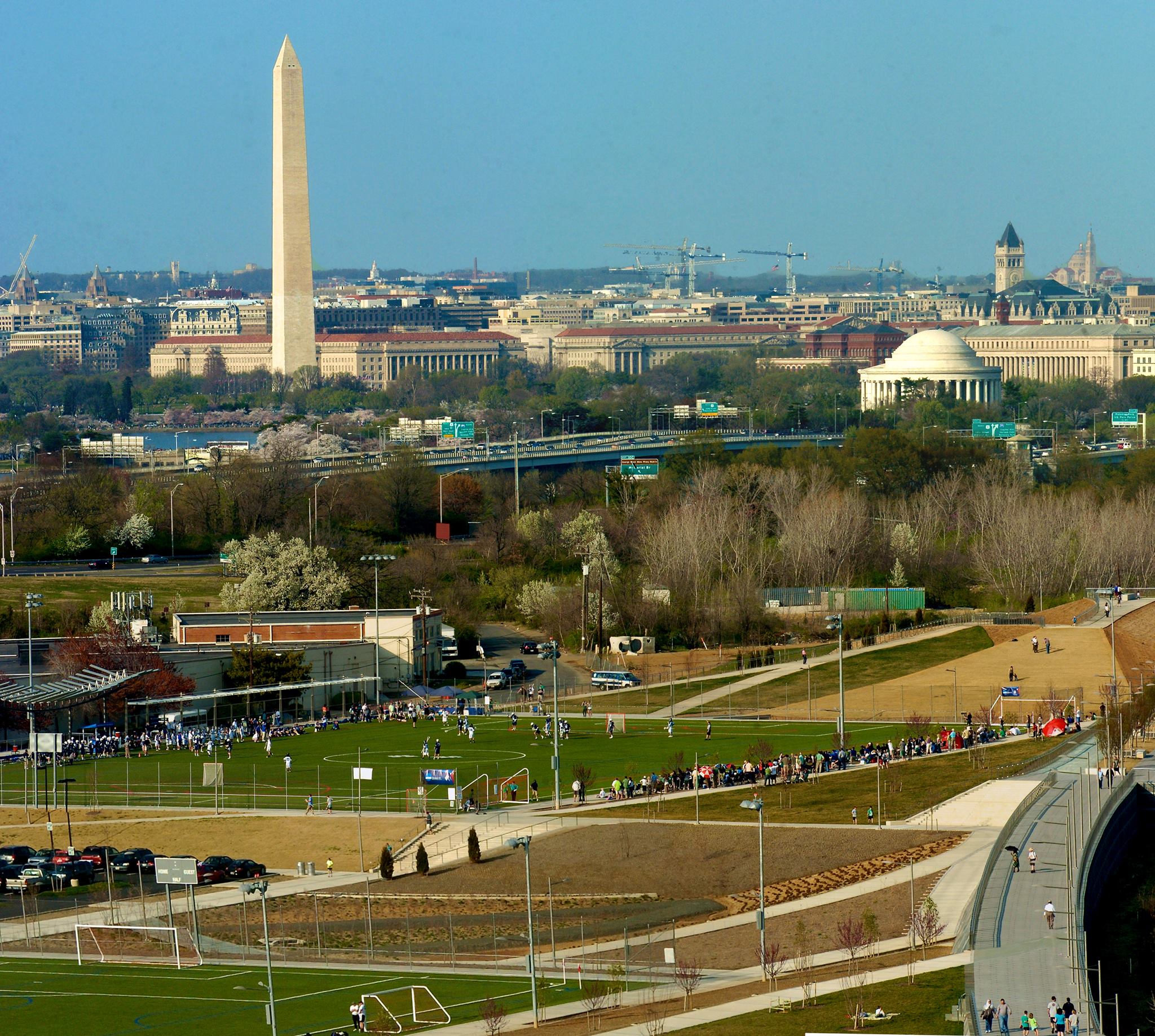 For more than 10 years, Arlington County has been striving to develop Long Bridge Park, based on years of community interaction. And now we're ready to take another big step forward: four nationally recognized design and construction firm teams have put together their best creativity and knowledge to design options. View the four design concepts for the Long Bridge Aquatics & Fitness Center and the four design concept videos below:
The Selection Advisory Committee (SAC), comprised of six staff and a community representative from the Long Bridge Park Advisory Committee, will recommend the contract award based on written proposals, oral interviews, review of concepts, public feedback and negotiations. It is anticipated that the County Manager will then make a recommendation to the County Board at their November 27 meeting for approval to award a $54,700,000 contract based on a concept from one of the four designs. Construction could start as early as July 2018, with the new facility open in 2021.
Renovations on the Pentagon Reservation
From the Pentagon Master Plan:
"To the east of the Reservation are Boundary Channel, the Pentagon Lagoon, Columbia Island, and the George Washington Memorial Parkway. Improvements to the Humpback Bridge and a new shared-use path underpass have recently been completed. Modification of the Boundary Channel Drive/I-395 interchange is planned to serve the proposed Long Bridge Park Regional Aquatics Center and the recently completed Long Bridge outdoor recreation park. The proposed project would provide improved pedestrian and bicycle access to Boundary Channel Drive and the Pentagon building for Pentagon employees."
"Coordination with Arlington County to facilitate the County's installation of a fence and a multi-use trail connection along Boundary Channel Drive and the Pentagon Lagoon that will connect to a signed public bike route from the proposed roundabout on Boundary Channel Drive to Long Bridge Park. Areas north of the multi-use path intersection with the roundabout will be signed as restricted to DoD/Pentagon badge holders only."
Editorial: In our October Newsletter, we reported about the VDOT plans to introduce an 'express lanes extension' on I-395 in the form of High Occupancy Toll (HOT) lanes which will start and end at the interchange at Eads Street and Army-Navy Drive. The laudable objective is to achieve an increased through-put in terms of the number of passengers, without increasing the number of vehicles. The beneficiaries will be primarily those who commute from further out in Virginia to jobs in D.C. or at the Pentagon. The other side of the coin is that a substantial impact is likely to be felt at the Eads/Army-Navy interchange and in a much larger surrounding area in Pentagon City and Crystal City.
VDOT has undertaken an Environmental Impact Analysis and the comment period ended on December 16, 2016. Therefore, Arlington County felt obliged to offer a formal comment, and the County Board approved such a text in its meeting on December 13, 2016. It should be emphasized that the County feels compelled to offer general support for the project and that, in any event, the County is not in a position to exert a very strong influence, let alone to prevent the project.
However, the most obviously affected communities in Crystal City, Aurora Highlands and Arlington Ridge clearly have reason to expect the County to look after our interests in terms of traffic impact, noise, and other environmental aspects. So the Presidents of our three Civic Associations joined forces at the December 13, 2016, meeting, in order to express concerns and to demand mitigating measures.
Regrettably, we had detected a tendency for the County to 'soft-pedal' their concerns vis-à-vis VDOT or even to appear to 'sweep issues under the rug'. For instance, in the Staff Report to the County just a few days prior to the meeting, serious concerns had been expressed on a number of issues: disagreements about methodology, substantially incomplete data, a failure to factor in anticipated future build-out in Crystal City and Pentagon City, and a totally inadequate allocation of resources for local mitigation efforts. But a revised text of the Resolution that the Board intended to pass, substantially downplayed all these serious issues or left them for future consideration. Clearly it is not credible that all these issues suddenly had been resolved or that reassurances had been provided. So there are reasons to wonder why the County nevertheless was prepared to play along.
In particular, the entire issue of mitigation of future traffic problems and environmental concerns was left up in the air with nothing more than a 'toothless' attempt at reassuring our community. The three CA Presidents offered harsh criticism and expressed a firm expectation that much stronger County action must be forthcoming as this project moves forward. However, it is also very important for individual residents of our area to stay informed and to come forward with their concerns to the County, either individually or through their respective Civic Associations.
A Vibrant CCCA Needs You!
In late 2013, a small group of dedicated CCCA residents worked hard to create the ByLaws by which we established the Crystal City Civic Association on January 28, 2014. We are about to celebrate 4 years of existence, during which we've advocated for so many issues of concern to residents, from creation of the new Pop Up Connection Library in the Underground, to mitigating excessive development growth that would undermine green space, to a good design for the Long Bridge Park facility, to a more rational planning approach to the proposed VRE station location. Obviously, we haven't won all of our battles, but we've made our presence known to the County and developers and become a force to deal with.
Now, as we approach the November 14 Annual General Meeting and elections for new officers, we are facing a turnover crisis. We've been lucky that most of our founding members have stayed the course so far and served in a variety of officer positions. We've also been lucky to have a number of others who have stepped up to help with non-officer positions on the Executive Committee. But the same officers can not continue forever; in fact, our ByLaws limit officers to two terms of two years in the same office. So, to ensure the viability of the CCCA, we need new participants on the Executive Committee and members who are willing to serve in a variety of capacities. The Committee plans and runs the meetings and stays on top of all the issues facing Crystal City, so we can keep you all informed.
Three positions will be open November 14 for election: President, Secretary, and Membership Liaison. We need volunteers to step forward. If you're not sure you want, or could, handle one of the jobs, we welcome you to get the flavor of the involvement by coming to Executive Committee meetings which are held generally in the off-months when we don't have General Meetings. You could also "shadow" one of the officers to learn the ropes for next year, or to be appointed mid-year if an officer steps down.
Please consider how you could contribute to civic engagement and help keep the CCCA vibrant. See details below. Email the Executive Committee ([email protected]) and the Elections Committee ([email protected]org) to ask for further information.
WE NEED VOLUNTEERS NOW.
Nominations for Officers of the Crystal City Civic Association (CCCA)
Nominations -- including self-nominations -- are now open for the following three CCCA officer positions! The principal duties are summarized below. All members whose dues are paid are eligible to be candidates and to vote in the election at the CCCA Annual General Meeting on the evening of November 14, 2016. Terms for each position are two years.
--President: Preside at all meetings and represent the CCCA to the County, developers, and other entities
-- Meeting Secretary: Meeting minutes-taker and keeper of non-financial records
-- Membership Liaison: Lead officer in recruiting new members and facilitating the CCCA activities of current members, ensuring they receive needed information and support
To nominate yourself, or someone else, for one of these offices, please submit general contact information for the nominee (name, address, phone number, email address, and a brief written statement supporting the candidacy) to the Election Committee, specifying which office the nomination is for. In addition, if you are nominating someone else, please provide your contact information. ([email protected])
Should there be more than one nomination for a position, eligible nominees who are willing to serve in those positions will have an opportunity to present an oral statement supporting their candidacy before the election at the Annual General Meeting.
All nominations must be received by October 30, when nominations will be closed.
More detail on the officer positions and operations of the CCCA is available from the Election Committee, whose members would be glad to provide additional information and answers to any questions of interested civic association members. ([email protected])
In addition, the CCCA's Bylaws containing descriptions of the open positions are posted to the right under "Directly Related Links."
This is an opportunity for Crystal City residents to advance the interests of the Crystal City community. Thank you in advance for your thoughtful consideration and response.
Patricia Heath, Barbara Selfridge, Dave Salmon, Election Committee
Site Plan Review of Crystal Square Retail October 26
On October 26, from 7-9 pm, the SPRC reviewed the JBG-Smith site plan for the Crystal Square block bounded by 15th Street South, Crystal Drive, 18th Street South and Jefferson Davis Highway. Public observers are welcome on the 11th floor of 2011 Crystal Drive. The proposed new theater and retail spaces will front on Crystal Drive and 18th Street South. The proposed plaza will be along the north side of 18th Street South between Crystal Drive and South Clark / South Bell Streets. JBG-Smith decided to separate the plan for the movie theater and retail/grocery space from the plans for the office to residential conversion of 1750 Crystal Drive, the new retail building, and 18th/Crystal Drive and the plaza along 18th. The second SPRC meeting on the grocery/theater will take place on November 20 (at Courthouse), i.e. AFTER the JBG appearance at our CCCA meeting November 14, but they will be glad to discuss it. You can view JBG-Smith's proposed site plan here.
CCCA Meeting October 5: "Fighting the Good Fight: Trains and Planes in Crystal City"
We had two items on the agenda for the October 5 CCCA General Meeting:
1. Airport Access Feasibility Study: The Business Improvement District (BID) funded a feasibility study for a possible pedestrian/biking bridge to the airport and made a brief PowerPoint presentation, followed by a Q&A. See the proposed access route here.
2. Location of Proposed VRE Train Station: After fighting all year to convince the County and VRE to adopt option 3 for the proposed new VRE station in Crystal City, we lost our sustained civic action. On September 19 the County Board voted to 1) "Accept Option #2 as VRE's preferred station location;" 2) Request VRE to '"Engage with the Arlington County Board and residents of Crystal City at the concept design and before site investigation, to review all elements of the concept design scope including noise; and further request that the VRE present the finalized concept design to the Arlington County Board and residents for final comment and opinion before finally selecting that design for construction;" and 3) Direct "the County Manager to initiate a process to engage CSX on mitigating noise from the operation of their rail lines in Crystal City, Arlington."
County Board Member John Vihstadt attended our meeting. He acknowledged that he had favored option 2, based on the staff report, before visiting the sites, but realized afterwards that there is really little difference for VRE between options 2 and 3, but a big difference for the community. That is why he made a motion to adopt option 3, but was outvoted by his colleagues. After an extensive Q&A session, he committed to sending a message the following day to his colleagues and the County Manager to ask what the next steps will be on engagement.
Our Newest New Polling Station for Precinct 006
Those of us in the north end of Crystal City may be starting to think of our elections polling station as a moveable feast. After years of voting at WaterPark Towers at 1501-1505 Crystal Drive, we were moved for the last year to Crystal Place at 1801 Crystal Drive. When the management for both buildings decided not to host the polling station any more, the County scrambled to find another site. Unfortunately, none of the suitable condo or apartment buildings wanted the hassle either.
So, our newest polling station is the Gallery Underground at 2100 Crystal Drive. Look for Room 25A in Section B on the Underground map. Some of you may have attended painting classes there or the VRE station public meetings last June. When you enter from We the Pizza and pass the Library on your right, turn left and it's the first glass-windowed area on the right. We assume the County will be sending out new voting cards in the near future.